Record entry for FIA R5 class in Sol Rally Barbados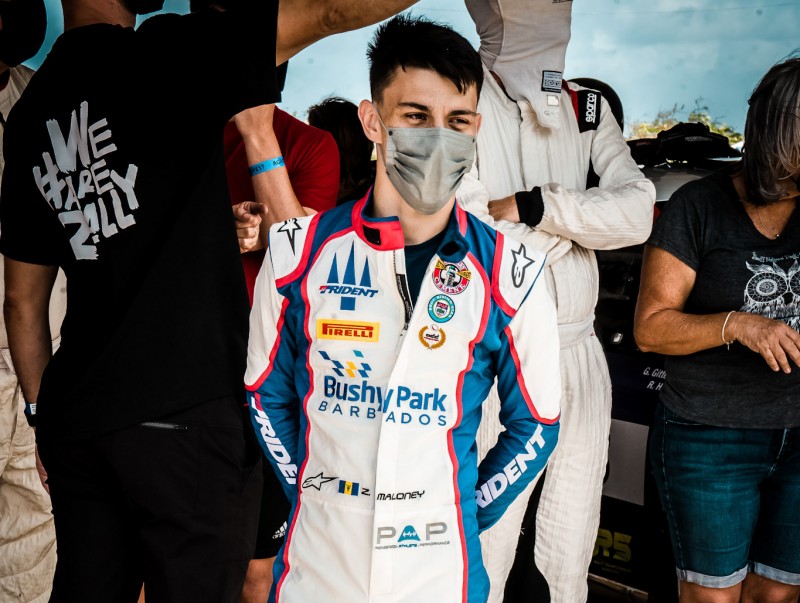 Fourteen crews will contest the FIA R5 class in Sol Rally Barbados next month, a record for the island, significant growth from three in 2019, then seven in Sol RB20, when America's Ken Block won the most recent running of the event overall in a Ford Fiesta Rally2. The numbers have been boosted by an entry for Barbadian FIA F3 racer Zane Maloney in a Skoda Fabia, two new registrations for the island's R5 Rally Championship presented by First Citizens and a strong challenge from the UK.
 Sol RB22 is slated for June 4 & 5, with King of the Hill the previous Sunday (May 29) sponsored for the first time by First Citizens, each event counting towards the R5 Rally Championship with the results of KotH used to seed RB22. With 60 points on offer for the win, Sol RB22 is the highest-paying of the 13 rounds, representing more than one-fifth of the season's available points, but it is also the most challenging. And unlike the Barbados Rally Club (BRC) Championship, R5 points will be awarded solely on the two-day result, whereas each day is a separate round of the BRC Championship.
 Maloney, who won the British F4 Championship in 2019, enjoyed his first experience of island closed-road rallying in March in the Fabia R5 owned by his uncle Stuart on a break from his FIA F3 campaign with Trident Motorsport. The 18-year-old is the only driver this year to have beaten the older Maloney, current leader of the R5 Rally Championship in his newer Fabia Rally2 evo. Anticipation in the island is high for the battle ahead, particularly with an additional family rivalry at play, between experienced brothers Kreigg and Kristian Yearwood, co-driving for Zane and Stuart respectively.
 Newcomers to the R5 Championship field are Canadian Ben Hartling and multiple BRC class champion Josh Read. One of the founders of the Turks & Caicos Rally Team, Hartling's father Stan has been registered since the start of the season in a Fiesta R5 and has decided to create a two-car family team with a second Fiesta after Ben has impressed with outings in a Citroen C2 R2 Max. For his debut, he will be mentored by experienced co-driver Martin Brady, who has more than 500 rallies under his belt and won class and overall titles in his native Ireland and North America.
 Read's Fiesta first arrived in Barbados with Scotland's Andy Scott, who finished 11th overall, third in Group A in Sol RB18, then third overall, winning the newly introduced FIA R5 class the following year, since when it has been rallied by Suleman Esuf. The 2007 BRC Champion Driver has made his name in two-wheel drive developing his Toyota Starlet from production car to SuperModified giant-killer, winning nine BRC class titles on the way, and is also a Bushy Park race-winner in the Suzuki Challenge Series Swift Cup. With regular co-driver Mark Jordan, he is taking a step in to the 4wd unknown.
 Jamaica's Jeff Panton and Mike Fennell (Fiesta) are closest to points leader Maloney in the standings and with four back-to-back Sol RB wins on their stat sheet (2015 to '18), will be looking to deal with the newcomers. Also Fiesta-mounted are President of the Barbados Motoring Federation Senator Andrew Mallalieu and Geoff Goddard, fourth and highest-placed locals in Sol RB20, and Turks & Caicos Rally Team member Paul Horton has triple British Rally Champion Matt Edwards as co-driver and coach.
 Equal third in the points is Fabia driver Roger Hill, who has more than 20 top 10 finishes in the island's premier event to his credit, so he and Graham Gittens can never be discounted, while Mark Maloney is just one point shy of Hill although it is some years since has rallied regularly; son Justin will co-drive.
 Two of the four UK entries are returnees: Tom Preston and Carl Williamson have finished in the top 10 on both their visits, ninth in Sol RB18 and fourth the following year in the Fabia this year driven by Zane Maloney; they now have a Fiesta. Back car for his ninth visit is Roger Duckworth, four times a winner of the former WRC-2 class; his Subaru Impreza WRC S6 will be sorely missed by island fans, but that would not have made it back in time for the Goodwood Festival of Speed, so he has also acquired a Fiesta, which he and Mark Broomfield will campaign for the first time at KotH.
 UK first-timer Frank Bird ticks a long-held bucket list box, having often recced with his father Paul since he was around 12, enjoying his record of two wins and six further podium finishes in nine visits; with 14 victories in 26 UK rallies since his debut in 2019, and now with co-driver Jack Morton, who shared the last of 'Birdy's podiums in 2018, alongside this is certainly a combination to watch. For Lyndon Barton and Simon Hunter, this is also a bucket list trip, the Fiesta the latest in Barton's long line of rally cars from Vauxhall Nova through Ford Escort Cosworths - second in the 1996 National Asphalt Championship in one of these - MG Metro 6R4s, Subarus and Ford Escorts.
R5 Rally Championship presented by First Citizens
Points after round 5
1st Stuart Maloney (BAR), Skoda Fabia Rally2 evo - 96 points
2nd Jeff Panton (JAM), Ford Fiesta Rally2 - 53pts
= 3rd Roger Hill (BAR), Skoda Fabia R5 - 48pts
= 3rd Rob Swann (ENG), Ford Fiesta Rally2 - 48pts
5th Mark Maloney (BAR), Skoda Fabia R5 - 47pts
6th Paul Horton (TCI), Ford Fiesta R5 - 30pts
7th Suleman Esuf (BAR), Ford Fiesta R5 - 26pts
8th Andrew Mallalieu (BAR), Ford Fiesta R5 - 22pts
9th Brian Gill, Ford Fiesta R5 - 11pts
10th Stan Hartling (CDN), Ford Fiesta R5 - 8pts
For media information only. No regulatory value.