Team Barbados heads for FIA Motorsport Games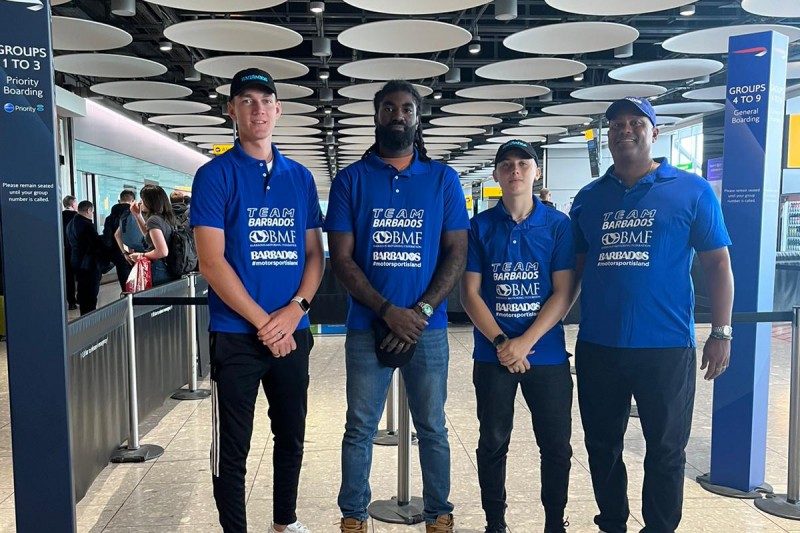 Kart champion Calem Maloney and Esports racer Leon Sealy are on their way to France to represent the Barbados Motoring Federation (BMF) in the FIA Motorsport Games this weekend (October 26-30). In partnership with Barbados Tourism Marketing Inc (BTMI), the BMF is one of more than 70 National Sporting Authorities (ASNs) affiliated to the Fédération Internationale de l'Automobile competing for gold, silver and bronze medals.
 Head of Delegation is Senior BMF Steward Warren Gollop, who left the island last evening (Monday) with Maloney and Bushy Park Operations Supervisor Dylan Downie on an overnight flight to London Heathrow. Today they joined UK-based Team Captain Sealy for their onward flight to France to meet up with Maloney's older brother Zane and kart crew member Danny Keirle, while Bushy Park Operations Director Amy Willis and island tourism specialist Natalie Springer will also support them during the week.
 After the pandemic caused a two-year hiatus following the inaugural event in Italy in 2019, the second edition of the Games gets under way with the Opening Ceremony at the Museum of European and Mediterranean Civilisations in Marseille on Wednesday (October 26). Circuit Paul Ricard, home of the French Grand Prix, is the venue for most of the 16 disciplines spanning a broad spectrum of motor sport, those on track including Formula 4 and Touring Cars as well as Karting. The Esports competition will take place in the Mistral Hall, which overlooks the circuit's famous Mistral Straight, while the Cross Car and Rally disciplines will be staged respectively at Autocross Veynois around two hours from Paul Ricard and Sainte-Baume, which is an hour away.
 Since 16-year-old Maloney was selected to participate last month by the Barbados Karting Association (BKA), he has been confirmed as the BKA's 2022 Champion Driver, having won the 125cc Easykart Junior title. He will compete in the Karting Sprint Senior discipline for drivers between 15 and 18 years old; they will drive identical Kart Republic OK chassis with IAME engines on the 964-metre Circuit Paul Ricard Karting Track.
 Keirle, a three-time British X30 Champion and 2017 CIK FIA OK World Champion will engineer the kart, while Zane Maloney, the 2022 FIA Formula 3 Vice Champion, will support him with driver coaching. Zane is also an ambassador for the island's motor sport heritage and will work with other team members in a booth in the ASN Village to promote Destination Barbados as Motorsport Island.
 UK-based Barbadian Sealy was selected for Esports after trials held in August by Caribbean Sim Motorsport (CSM), which became affiliated to the BMF last year. The 33-year-old has been sim racing for about two years, mostly on Assetto Corsa Competizione, which is the platform in use for the FIA Motorsport Games.
 BMF President Senator Andrew Mallalieu said: "This is a wonderful opportunity to put Barbados at the centre of world motor sport. On behalf of the BMF and everyone in our Member Clubs, I wish Calem and Leon the very best of luck in their disciplines . . . and I am sure I will not be the only one following them closely on-line. I am told that more than 10,000 tickets have already been sold so there will be a huge fan base on hand enabling us to capitalise on our partnership with the BTMI to promote our Motorsport Island in the ASN Village. I should also thank the Barbados Olympic Association for their support, 809 Design Associates for artwork and UpBeat for our team shirts."
 Esports takes the form of a multi-stage knockout competition, with competitors divided initially into three groups for Free Practice and Qualifying on Thursday; after further Free Practice, Quarter Finals and Last Chance races will be staged on Friday, with the Semi Finals and Final on Saturday. Karting starts on Friday, with Free Practice and Timed Qualifying; after further Free Practice, the first two Qualifying Heats will be on Saturday, with a warm-up, followed by the third Qualifying Heat and Final on Sunday.
 For local fans wanting to follow the fortunes of Maloney and Sealy, the event web site is fiamotorsportgames.com, which will feature live timing and a live stream. The full event timetable can also be found, but viewers are advised to be careful, as Daylight Saving Time in France ends at 3.00am on Sunday (October 30), so Paul Ricard will be only four hours ahead of Barbados on Sunday, not five as on Saturday.
Editor's note: affiliated to the Federation Internationale de l'Automobile (FIA), which rules the sport worldwide, the Barbados Motoring Federation (BMF) is the island's governing body for motor sport; it also represents the interests of its Member Clubs in discussions with Government departments which facilitate the sport in the island, in particular the Ministry of Transport, Works & Water Resources, which permits road closures for an agreed number of events each year. Away from motor sport, the BMF affiliate which answers the FIA Mobility remit is the Barbados Automobile Association (BAA).
For further information
web site: https://bmf-fia.com/
E-mail: ClubCorrespondent@bmf-fia.com