Close battles for R5 places resolved at ULTRAFEST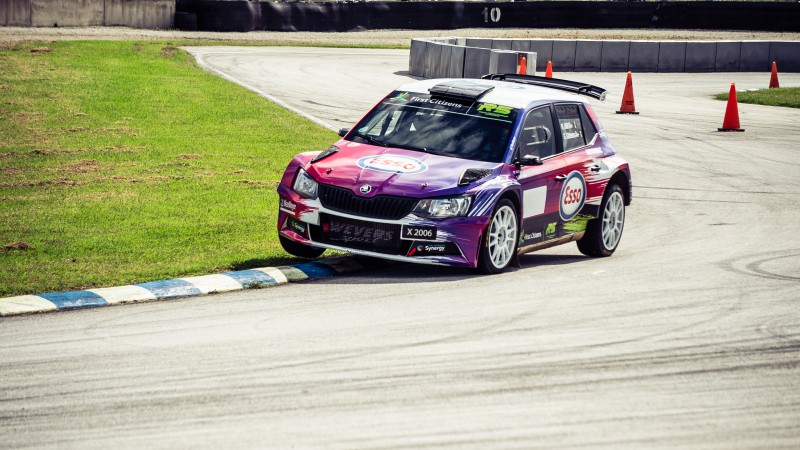 The island's first-ever national motor sport series, the R5 Rally Championship presented by First Citizens, was settled during the all-new ULTRAFEST at Bushy Park Barbados last Saturday (November 19). Administered by the Barbados Motoring Federation (BMF), the 15-round contest has combined drag racing, special stage rallies and sprints, with the final run as a RallySprint on the three-kilometre course designed for the 2014 Race Of Champions, which was won by 13-time Grand Prix winner David Coulthard.
  While Stuart Maloney, who had led the standings since round one in March in his Skoda Fabia Rally2 evo, was already Champion-elect, the remaining top five positions were undecided. Roger Hill and Josh Read were fighting over second place – Hill was ahead by just three points - while Mark Maloney and Britain's Rob Swann were separated by a single point in the battle for fourth. With dropped scores to be taken into account and the course new to everyone except Jeff Panton, who represented Team Jamaica in 2014, it would prove a day of drama and surprises.
  The Championship points were based on each driver's fastest time set during the three Random Qualifiers, used in the RallySprint format to establish the seeding order for the later KnockOut races. Championship Manager David Williams said: "It was decided that this was the fairest way of scoring, bearing in mind some drivers would be knocked out in the 'Round of 16', which decides who goes into the Quarter-Finals."
  As the R5s were included in the Modified 4wd group, there was also a chance to see how they would perform on a shorter course that the usual closed-road sprint against the island's sole remaining World Rally Car regularly seen in competition. Dane Skeete's Subaru Impreza WRC S12, in which he has added two recent victories in Sol Rally Barbados to the three claimed by his father Roger since 2010, was paired with Josh Read's Ford Fiesta R5 and Stuart Maloney's Skoda in the Qualifiers.
  Each time, Skeete crossed the line first, but 'winning' is not as important as the times being set. In the first Qualifier, Maloney was fastest with a time of 1m 34.647s, with Skeete just four-hundredths behind (1:34.688) and Read third (1:35.167), these three around 1sec clear of the rest. Mark Maloney (Fabia Rally2 evo) was third of the R5s, ahead of Panton, who was enjoying his final weekend competing in his Fiesta Rally2 before it is replaced by a Skoda Fabia. Swann (Fiesta Rally2) was fifth, ahead of Hill (Fabia R5) and the Fiesta R5s of Paul Horton of the Turks & Caicos Rally Team and Andrew Mallalieu.
  Skeete turned the tables in the second Qualifier, stretching an advantage of three-tenths over Maloney (1:34.164), but it had all closed up among the R5s. Behind the Champion-elect came Panton (1:34.447) and Read (1:34.795), this trio covered by just six-tenths, then Hill (1:35.377) and Mark Maloney (1:35.685) closely matched, followed by Swann, Horton and Mallalieu.
  In the final Qualifier, Skeete found another two-tenths (1:33.611), but Stuart Maloney improved by nearly half-a-second (1:33.682), the WRC and Rally2 separated by just seven-hundredths. This was the last chance for championship points to be scored, so the R5s pulled out all the stops: Panton (1:34.079) was nudged down to third place by Mark Maloney (1:34.062), while Josh Read (1:34.374) finished ahead of Roger Hill, whose second-run time of 1:35.377 was his best, in their final battle for second. Mallalieu, Swann – another failing to improve in the final run – and Horton completed the field.
  The tie-break rules were applied twice to resolve the final Championship standings. Read and Hill were tied on 186 points, the former getting the nod for second place having claimed one event win, a disappointing outcome for Hill, who was the only driver to score points in every round. Panton and Horton were also tied, on 101 points for sixth place, the Jamaican claiming the position with more second places.
  Although there were only bragging rights not championship points to be earned in the ULTRAFEST KnockOut stage, the R5s provided great entertainment in the Modified 4wd Quarter-Finals and beyond. Skeete beat Swann in the first, while Panton prevailed in the second after Read's Fiesta broke an axle. In the third, Mark Maloney beat Hill to set up a Semi-Final fight with brother Stuart, who had dispensed with Mallalieu.
  The sun was beginning to set by the time the Semi-Finals ran, Skeete against Panton being the first . . . and it had been worth waiting for! Between them, winners of six of the seven most recent editions of Sol Rally Barbados, it had to be close. And it was, but the longer legs of the Impreza WRC carried it over the line just inches ahead. In the all-Maloney Semi, Mark beat Stuart. Up to now, Skeete had crossed the line five times, in the Qualifying Runs, Quarters and Semis, and each time he had been the car in front, but all that changed in the Final, in which a spin at the last hairpin on the course – then a few crowd-pleasing donuts for good measure - left Maloney's R5 the clear winner.
R5 Rally Championship presented by First Citizens
Round 15 – ULTRAFEST RallySprint (Vaucluse Raceway Motorsport Club)
Bushy Park Barbados – November 19
Results
1st Stuart Maloney (Skoda Fabia Rally2 evo), 1m 33.682s
2nd Mark Maloney (Skoda Fabia Rally2 evo), 1:34.062
3rd Jeff Panton (Ford Fiesta Rally2), 1:34.079
4th Josh Read (Ford Fiesta R5), 1:34.374
5th Roger Hill (Skoda Fabia R5), 1:35.377
6th Andrew Mallalieu (Ford Fiesta R5) 1:35.822
7th Rob Swann (Ford Fiesta Rally2), 1:36.472
8th Paul Horton (Ford Fiesta R5), 1:36.911
Final Positions (after 15 rounds):
1st Stuart Maloney (BAR), Skoda Fabia Rally2 evo - 298 points
2nd Josh Read (BAR), Ford Fiesta R5 – 186pts *
3rd Roger Hill (BAR), Skoda Fabia R5 - 186pts *
4th Mark Maloney (BAR), Skoda Fabia R5/Rally2 evo - 176pts
5th Rob Swann (ENG), Ford Fiesta Rally2 - 166pts
6th Jeff Panton (JAM), Ford Fiesta Rally2 - 101pts **
7th Paul Horton (TCI), Ford Fiesta R5 - 101pts **
8th Andrew Mallalieu (BAR), Ford Fiesta R5 - 98pts
9th Stan Hartling (CDN), Ford Fiesta R5 - 41pts
10th Suleman Esuf (BAR), Ford Fiesta R5/Skoda Fabia R5 - 36pts
11th Ben Hartling (CDN), Ford Fiesta R5 - 25pts
12th Brian Gill (BAR), Ford Fiesta R5 - 11pts
* tie-break resolved by most 1st places ** tie-break resolved by most 2nd places
For media information only. No regulatory value.
For further information:
please contact BMF Vice-President, David Williams - e-mail: vicepresident@bmf-fia.com
web site: https://bmf-fia.com/