BMF applauds FIA Rookie of the Year Zane Maloney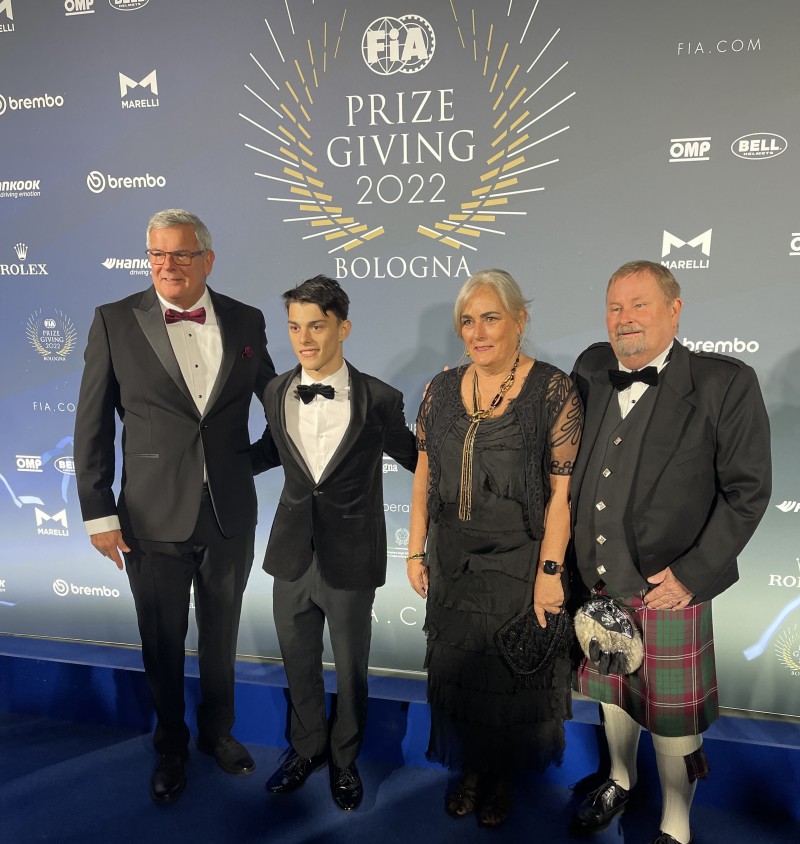 The Barbados Motoring Federation (BMF) has applauded the achievements of Formula 3 racer Zane Maloney following a whirlwind seven days in Europe for the 19-year-old Barbadian. While the headline news was joining the Red Bull Junior Team as a Formula 1 reserve driver for 2023, he also collected trophies at ceremonies in London, Monaco and Bologna, where he was crowned FIA Rookie of the Year, the second-youngest circuit racing winner behind double World Champion Max Verstappan and the first from F3.
 BMF President Senator Andrew Mallalieu, who was in Bologna, said: "As a federation, we are very proud of what he has accomplished. About two years ago, we set ourselves the goal to have a Barbadian driver as a World Champion and Zane is continuing in that direction. It validates that what we've been doing is the right thing, from karting all the way through. We want to get young people involved at an early age and create an environment where our drivers, officials and volunteers can be their best."
 Maloney's remarkable week started last Monday morning (December 3) with a visit to the Headquarters of 2022 Formula 1 World Constructors Champions Oracle Red Bull Racing at Milton Keynes, just half-an-hour from Silverstone, the home of the British Grand Prix. By lunchtime, he was in Central London, at the British Racing Drivers' Club Awards at the Marriott Hotel in Grosvenor Square, where he received the first of four trophies he would collect during the week. Already a BRDC Rising Star, he received the John Cooper Trophy, awarded to the highest-placed British or Commonwealth driver in the FIA F3 Championship, from five-time Grand Prix winner John Watson.
 News broke on Wednesday morning that he will be a member of the Red Bull Junior Team and a Formula 1 reserve driver in 2023, news already greeted on his Instagram page by nearly 20,000 likes. He said: "I am thrilled to announce that I will be a part of the Red Bull Racing Junior Team and F1 Reserve Driver in 2023. I am grateful for the opportunity and support and look forward to getting the season started."
 By Friday (December 9), he was in Italy, where he was introduced to 1,000 guests including BMF President Mallalieu and Club Correspondent Jeanne Crawford, at the glittering FIA Prizegiving in Bologna as FIA Rookie of the Year. Voted by the FIA Drivers' Commission, the award is selected from drivers who have just completed their first season in any FIA championship. Past winners include Verstappen and Oscar Piastri, who will be joining the F1 grid in 2023, but the only two-time winner, Ferrari F1 driver Charles Leclerc, was on hand to present the award.
 Leclerc told Maloney: "You have had an amazing year and you completely deserve this trophy. You still don't know how possible it is to get to Formula 1, but you give your best and eventually you will join us there, I'm sure." Maloney, who has raced against Leclerc's younger brother Arthur in F3 this year, said: "It's an honour to be standing here next to Charles. I hope I can be as good as him one day."
 The final stop on Maloney's grand tour was the combined FIA Formula 2 and F3 Prizegiving yesterday (Sunday) in Monaco, where he had claimed a memorable win in Formula Regional European in 2021. In addition to his trophy for finishing Vice-Champion, just five points shy of 2022 Champion Victor Martins, Maloney won the Dallara Best Rookie Award after an impressive debut year in which he was the first driver ever to win three consecutive F3 Feature Races.
Editor's note: the Barbados Motoring Federation (BMF), which is affiliated to the Fédération Internationale de l'Automobile (FIA) and the Fédération Internationale de Motocyclisme (FIM) is the island's governing body for motor sport; it also represents the interests of its Member Clubs in discussions with Government departments which facilitate the sport in the island, in particular the Ministry of Transport, Works & Water Resources, which permits road closures for an agreed number of events each year. Away from motor sport, the BMF affiliate which answers the FIA Mobility remit is the Barbados Automobile Association (BAA).
For media information only. No regulatory value.
For further information
web site: https://bmf-fia.com/
E-mail: ClubCorrespondent@bmf-fia.com