BMF honours 60-year involvement of Bizzy Williams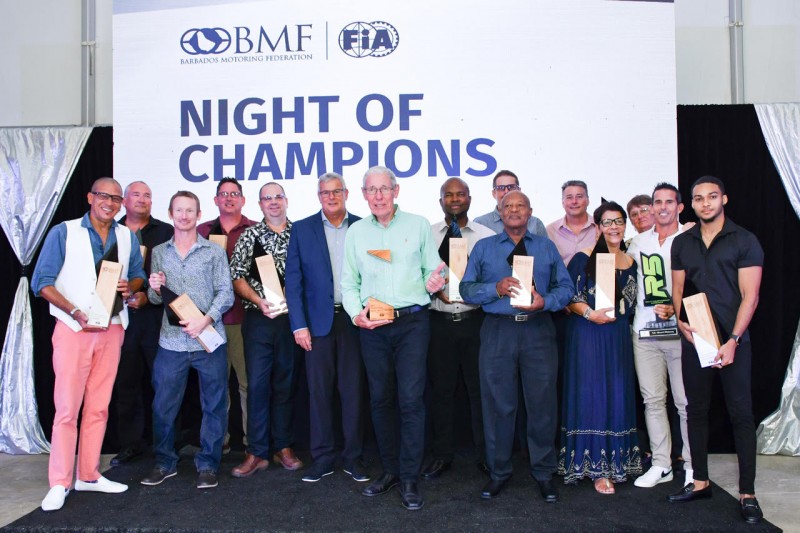 The Most Honourable Ralph 'Bizzy' Williams was honoured by the Barbados Motoring Federation (BMF) for his 60-year involvement in island motor sport last evening (Friday). He became the first recipient of the President's Award at the BMF Night of Champions, the first-ever national awards evening for the sport in front of an invited audience at Mahogany Ridge, St Thomas.
  Bridget 'Biddy' Barber was presented with the BMF Women in Motorsport Award, celebrating an active role in the sport that started in her teens and continues into her 70s as driver, navigator, crew chief, marshal and organiser. A marshal for more than 30 years, first with the Dirt Track Club and now a Life Member of the Motoring Club Barbados Inc (MCBI), Elridge Grant's commitment was acknowledged with the BMF Volunteer Award, while Himal Reece's photographic coverage of the sport over more than two decades was honoured with the BMF Media Award, although he was not present to receive it, as he is away filming Mexico's round of the World Rally Championship.
  Introducing his award, BMF President Senator Andrew Mallalieu said: "As a part of this new event, I thought it appropriate that we recognize a person who has had a significant and enduring impact on our sport. A person of whom we can truly remark 'we are better because of their involvement'. In considering the criteria, I thought of areas such as relevance, legacy, innovation, impact and sacrifice.
  "There can be no doubt of Bizzy's relevance, not just to the BRC [Barbados Rally Club] but also to BARL [Barbados Auto Racing League] and indeed to anyone who has ever visited Bushy Park. His legacy is not yet complete, but frankly it is already unparalleled. The impact he has had with facilities, cars, safety, competitors, sponsors - and the list goes on - has been significant. And, finally, the personal sacrifice that he has made in terms of keeping the sport going over what is approaching six decades as competitor, organizer, race car builder and sponsor. He has touched this sport in every aspect."
  A short video highlighting his involvement in the sport was followed by a lengthy standing ovation as a clearly delighted and surprised Williams headed to the stage. He acknowledged the invaluable support of his first wife Wendy, who shared the family home alongside which Bushy Park was built, and present wife Shelly, the Chairman of Barbados Tourism Marketing Inc (BTMI), who presented the remaining BMF Awards.
  The BRC's June Rally of 1963 was his first motor sport event, the start of a successful career, first in the Mobil Mileage Rallies, acceleration tests and sprints of the day, with class wins and records aplenty. A participant when circuit racing first came to the island in August 1971 on a dirt track at Chancery Lane, he was the designer of Bushy Park at the wheel of his motor racing special 'Foolishness' when land alongside his family home in St Philip was offered as a venue for the new circuit.
  He became a race car constructor with the formation of Terrapin Racing & Developments Ltd in 1972, racing his own Terrapin and later a Brabham BT28, in which he held the Outright Lap Record when the circuit closed at the end of 1975. After applying his competitive energies on the water for the next 20 years, setting round the island records with the original Tiami catamaran, then the Tiami Silver Bullet, his interest in motor sport was revived in the '90s, in part by son Stuart's early career.
  Williams had a major impact in the sport as a sponsor, his support of BARL's annual Internationals enabling the club to attract the very best racers from around the region and further afield, while Williams Industries brands were promoted on a wide range of race and rally cars. In 2010, he was among local investors who matched the grant from the FIA Institute's Facility Improvement Programme which funded the Master Plan for the re-development of Bushy Park.
  The evening also featured the presentation of awards for the R5 Rally Championship presented by First Citizens, the BMF-sanctioned competition launched last year as the country's first national motor sport series, along with the Champions of the Barbados Karting Association (BKA), BRC, MCBI and Vaucluse Raceway Motorsports Club (VRMSC). The Barbados Association of Dragsters & Drifters (BADD), BARL and Bushy Park Motor Sports Inc (BPMSI) found it harder to recover from the ravages of the pandemic and were unable to complete a full championship programme last year.
Barbados Motoring Federation
Night of Champions – March 17, 2023
List of Awardees
President's Award: The Most Honourable Ralph 'Bizzy' Williams
Women in Motorsport Award: Bridget 'Biddy' Barber
Volunteer Award: Elridge Grant
Media Award: Himal Reece
R5 Rally Championship, presented by First Citizens
Champion: Stuart Maloney
2nd: Josh Read
3rd: Roger Hill
Caribbean SIM Motorsport
E-Sports Champion: Mark-Anthony Hinkson
Barbados Karting Association Sectus Technologies Championship
Champion Driver: Calem Maloney
Barbados Rally Club Oasis Autocross Championship
Champion Driver: Stephen Nicholls
Barbados Rally Club Chefette MudDogs Safari Championship
Champion Driver: Leslie Alleyne
Champion Navigator: Chris O'Neal
Barbados Rally Club Oasis Drivers & Class Championships
Champion Driver: Edward Corbin
Motoring Club Barbados Inc Championship
Champion Driver: Sean Corbin
Vaucluce Raceway Motorsport Club Oasis Westlake Tyres BimmaCup BB
Champion Driver: Ian Warren
For media information only. No regulatory value.