Title race wide open as R5 Rally Championship restarts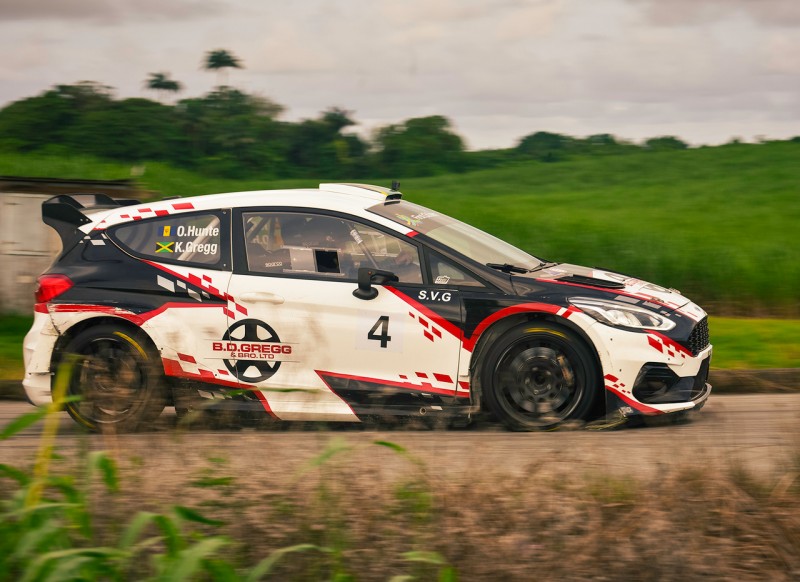 The race to win the second season of the R5 Rally Championship, presented by First Citizens, is wide open as competitors from home and away gather in Barbados for Saturday's (September 9) Rally of the Sun & Stars, the first qualifying round for three months. Running from day into night over 12 stages, the Motoring Club Barbados Inc's (MCBI) premier event is round seven of 10 in this year's R5 title chase.
  After four points-scoring rounds, reigning champion Stuart Maloney again holds the advantage, but is only seven points ahead of Jamaica's Jeff Panton, each now at the wheel of Skoda Fabia Rally2 evo. Panton's fellow-countryman Kyle Gregg (Ford Fiesta Rally2) is third, another 15 points behind and seven ahead of Bajan Roger Hill, who finished third in last year's inaugural championship in his Fabia R5.
  With fewer than 30 points spread across the top four in the standings and 64 remaining on offer between now and the final round in November – that represents just over 40 per cent of the points awarded throughout the season - there is still all to play for. Maloney and Panton are the only winners so far, sharing the honours two apiece, but others have come close, Gregg, Hill and Mark Maloney (Fabia Rally2 evo) all having second-place finishes to their credit.
  While last month's Barbados Rally Club (BRC) Double-Header Summer Sprint in St George was not a round of the Championship, the results for the R5 class do provide a useful mid-term form guide for everyone except the UK's Rob Swann, the only series regular who wasn't entered. Gregg and Panton shared the victories - Panton also beat Dane Skeete's Subaru Impreza WRC S12 to claim his first overall win for two years - while Stuart Maloney split the Jamaicans in the first direction between Drax Hall and Ellesmere, then finished fourth behind Panton, Gregg and his brother Mark in the reverse, the quartet covered by less than seven-tenths of a second.
  Afterwards, Maloney said: "I don't know if I just didn't have my mojo, but the guys were quick. I think too that, if he had got a good fourth run in, Mark would've blitzed us based on his third run time. I give props to them, they were quick. I know I left some time on the stage but props to the guys who were all fast."
  Former circuit racing and rally champion Gregg is settling into his first season in a R5, as he said after the BRC event: "The confidence is coming along the more I'm driving the car. We did some chassis changes to the car to soften it a bit to remedy some understeer we had been dealing with. I made a couple mistakes on the day and had a puncture near the end of the last run of the day but was happy to be competitive. The pace is there and all the people that doubted the Ford, the Ford is back."
  While Swann missed the Summer Sprint, his earlier R5 Championship results were heading in the right direction, placing him fifth in the standings behind Hill. Since he retired from the Shakedown Stages in April when he struck a power pole while leading the event at the end of the second stage, his record shows a healthy shift in the right direction: seventh in First Citizens King of the Hill, then fourth and third on the two days of Sol Rally Barbados. This weekend, his co-driver is James Hutchinson, who won SuperModified 1 on Sol RB23 in Jason Cozier's recently-acquired Ford Escort MkI.
  Another whose results are on the right trajectory is Josh Read (Fiesta R5), who finished second to Maloney in 2022. Another to exit abruptly from the Shakedown Stages, his Championship results since have been eighth, sixth and sixth, while he finished fourth and sixth in the Double-Header last month. Read also has a change of co-driver this weekend, karting champion Calem Maloney stepping in, as does the Turks and Caicos Rally Team's Paul Horton (Citroen C3 Rally2), who will be joined by Barry Ward. Horton and Andrew Mallalieu (Fiesta R5) were closely-matched in the Summer Sprint.
  Saturday's event is scheduled to start at 2.00pm from the Service Park at Greenland, St Andrew. The afternoon route will alternate between Lamberts to Church Hill (4.6 kilometres) and Orange Hill to Indian Ground (3.1km), three times each, with the stages running in the reverse direction for the night-time route, scheduled to start at 6.30pm.
R5 Rally Championship presented by First Citizens
Entry list – MCBI Rally of the Sun & Stars, September 9
Kyle Gregg -JAM/Orry Hunte (Ford Fiesta Rally2)
Roger Hill/Graham Gittens (Skoda Fabia R5)
Paul Horton – TCI/Barry Ward (Citroen C3 Rally2)
Andrew Mallalieu/Geoffrey Goddard (Ford Fiesta R5)
Mark Maloney/Justin Maloney (Skoda Fabia Rally2 evo)
Stuart Maloney/Kristian Yearwood (Skoda Fabia Rally2 evo)
Jeff Panton – JAM/Mike Fennell Jnr - JAM (Skoda Fabia Rally2 evo)
Josh Read/Calem Maloney (Ford Fiesta R5)
Rob Swann – ENG/James Hutchinson (Skoda Fabia R5)
Championship points, after round 6: 1st Stuart Maloney, 85 points; 2nd Jeff Panton – JAM, 78pts; 3rd Kyle Gregg – JAM, 63pts; 4th Roger Hill, 56pts; 5th Rob Swann – ENG, 48pts; 6th Mark Maloney, 38pts; 7th Josh Read, 35pts; 8th Andrew Mallalieu, 33pts; 9th Paul Horton – TCI, 15pts
Remaining rounds: October 21 – Double Header Speed Event; October 22 – Winter Rally; November 12 – ULTRAFEST '23
For media information only. No regulatory value.
For further information:
please contact BMF Vice-President, David Williams - e-mail: vicepresident@bmf-fia.com
web site: https://bmf-fia.com/